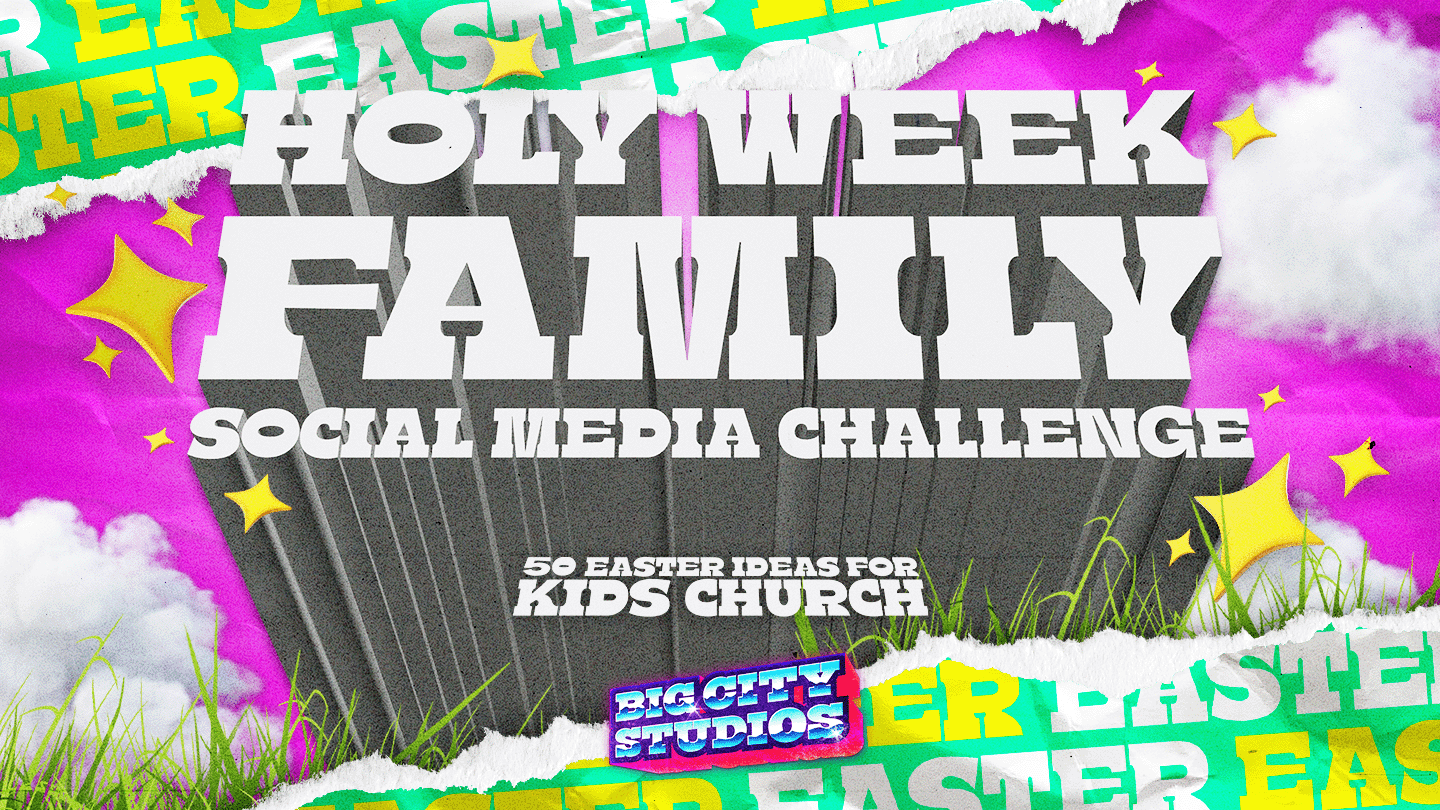 Holy Week is used in traditional Christian practices as a way to observe and celebrate the sacrifice and resurrection of Jesus each day of the week leading up to Easter Sunday. It places a key moment of the final week of Jesus's life on one day and can guide the observer in reflecting on the purpose of Jesus's life and God's gift of salvation.
The days of Holy Week are as follows: Palm Sunday, Holy Monday, Holy Tuesday, Spy Wednesday, Maundy Thursday, Good Friday, Holy Saturday, Easter Sunday.
In our social media-centered cultured, it could be cool to encourage the families of your church to participate in Holy Week with a social media challenge.
For each day of Holy Week, you'd provide a prompt to your families that would consist of an activity they could do and then post on their social media pages using a hashtag or tagging your church or ministry.
Check out this Very Helpful Visual© for some visual reinforcement:
The following are our suggested activities per day:
Palm Sunday (The Triumphal Entry) - Throw a family party featuring palm branches using construction paper or real palm leaves. Bible Reading: Matthew 21:1-11
Holy Monday (Jesus Cleanses the Temple) - Work together to build your very own temple out of pillows and blankets. Bible Reading: Mark 11:12-18
Holy Tuesday (Jesus and the Fig Tree/Parable of the Talents) - Put on a family talent show and share ways you can use your talents to tell others about Jesus. Bible Reading: Matthew 21:18-22, Luke 19:11-24
Spy Wednesday (Judas's Betrayal) - Exchange gifts with one another and share ways you can give to others. Bible Reading: Matthew 26:6-16
Maundy Thursday (Last Supper) - Share a picnic together indoors and discuss ways you can help and serve one another. Bible Reading: John 13:1-17
Good Friday (Jesus's Crucifixion) - Take some time to walk outside together and share ways that Jesus helps us. Bible Reading: Mark 15:21-47
Holy Saturday (Jesus in the Tomb) - Work together to prepare for Easter Sunday and discuss what it means to be a family. Bible Reading: Matthew 27:62-66
Mar 29, 2023

Category:

Ideas
Comments: 0